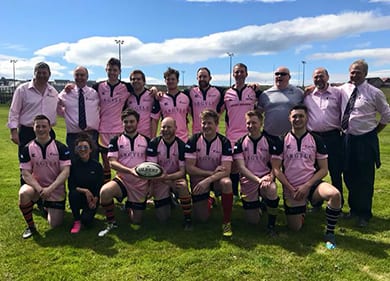 Following the success of last year's sevens team, the Hearts + Balls Charitable Trust will participate in several more tournaments in 2018 under the direction of Bruce Ruthven.
Ruthven, a former 7s player at Melrose RFC and current Rugby Coordinator at Stewart's Melville College, understands the aim of participating in these tournaments, is to promote the charity and bring awareness to the work that is being done in the community.
However, Ruthven believes some of the best exposure for the charity is by competing well at these tournaments.
"It is important that the Hearts + Balls squads come together quickly on the day as we want to be competitive at each tournament.  We would like to think we play an attractive style of 7s and provide some good entertainment for the spectators.  If we reach the finals stages of a tournament this can only provide greater exposure for the charity but fundamentally we are there to enjoy the day, engage with club members and the public, and be great ambassadors for the charity," said Ruthven.
Sporting a brand-new kit, the team travelled this past week to the 51st Orkney Rugby Sevens in hopes of defending last year's title. Despite a tremendous effort, the team were denied back-to-back titles, finishing second out of 18 sides.
Orkney, led by Scott Russell and Jon Tait, defeated the charity 10-7, claiming their first Sevens title since 2014.
Hearts + Balls now shift their focus of attention to this Saturday's upcoming tournament at Cartha Queen's Park RFC.
The team will then wrap up play this spring the following weekend at Jedforest's 125th Anniversary 7's.
We give thanks to the following sponsors for this spring's rugby campaign;
Argyle Consulting – Barclay Gilmour – Rydens – Martin Currie Investment Management – Orkney Builders, Kirkjuvagr Gin – Loganair – Edinburgh Partners Ltd