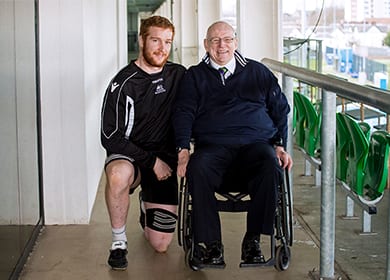 Jim Taylor MBE has lived a fulfilling life, during which he has given so much back to the game he loves.
Although his playing career came to end four decades ago while playing for Kelvinside Academicals, when a rugby scrummage collapsed and he broke his neck, Jim has risen above all trials and tribulations.
When the Glasgow hero found out he had breast cancer in 2015, Jim knew he had the power to pull through, because that's what Jim does. Time and time again he has beaten the odds.
Now, as Jim approaches this year's 40th anniversary of him becoming paralysed, he wants to say thank you to all those who have stood by him and shown support throughout the years.
The Hearts Ballsand Balls Festival, A Thank You from Jim Taylor to the Rugby Community, sponsored by Kelvinside Academy, Harper Macleod LLP and BIG Partnership, will take place on 23 June at the Balgray Playing Fields.
Attendees can celebrate Jim and enjoy live music entertainment from British Lion John Beattie's band.
"I have an endless number of people to thank for the support I've received over the years. It'll be a tremendous opportunity to celebrate and bring awareness to what the Hearts Ballsand Balls Charitable Trust is doing in the greater community," says Taylor.
The event is set to begin at 6pm, and food and drink will be included in the ticket price. All profits will go towards Hearts Ballsand Balls, 'helping rugby help its own.'
Jim has been the Glasgow Warriors Partnership Account Manager since 2011 and has been an instrumental part in helping support those who have suffered spinal injuries from playing rugby. He was awarded an MBE for his service to charity in 2015.
Tickets are £30. To book visit Eventbrite.