In just two weeks of sevens action, the Hearts + Balls MB 7s teams have already claimed three trophies.
Last week, the Hearts + Balls MB 7s won its debut tournament – Edinburgh City 7s. The ladies defeated Corstophine Cougars in the final. Laura Wilkie was named Player of the Tournament.
On Saturday, the charity's women's team continued their incredible debut season, making it two for two with a win at Peebles' King of the 7s tournament.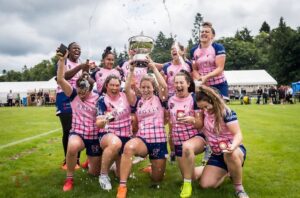 And the men helped the charity make history when they defeated Selkirk 12-7 – making Hearts + Balls MB7s the first side to ever complete the double with a men's and women's win at the event. James "Sax" Ferguson was named player of the tournament.
You can see both teams' dramatic wins and more action from the tournament, here.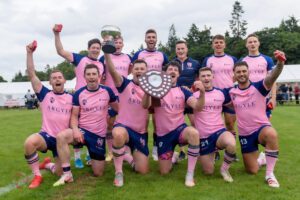 Hearts+Balls chair Kenny Hamilton said:
"The ability to promote the charity and its work through the participation of the H+BMB 7s had already brought significant dividends through the continuing generosity of the Scottish rugby community.
"Every weekend they are spreading the message of our charity by playing incredible winning rugby with great spirit. We are hugely grateful to every player who has done us proud while wearing the shirt, all the teams' sponsors and especially to Dylan Russell who has been the driving force behind Hearts + Balls MB 7s since it began."
HBMB 7s is sponsored by LIFT, Argyle Consulting LTD., SoundSurf, Bier Hoose, Pure Sport CBD, Ryden, Hit., and Sports Hall Medical Supplies.