WHAT'S HAPPENING
31st January 2018
On January 20th, David Mercer passed away peacefully in his home. David was injured 50 years ago whilst playing for Broughton Rugby Club. David has been supported by Hearts +...
Read More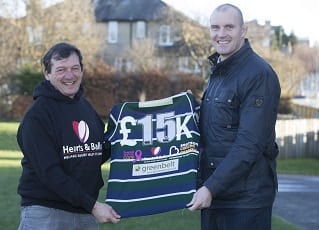 13th January 2018
Hearts + Balls has appointed one of Scottish Rugby's most famous faces as a director - former Scotland and Glasgow Warriors captain Alastair Kellock. The living legend decided to throw...
Read More
To find out more about fundraising, our events or the difference we make to the rugby community please contact us using this form or call or email us below.
Graham Docherty
Director
The Hearts + Balls Charitable Trust,
27 Blinkbonny Avenue,
Edinburgh EH4 3HT
0131-332-5993
07974-955763
The Hearts + Balls Charitable Trust
Registered in Scotland No SC240234
Scottish Charity No SC033927
Registered Office:
Caledonian Exchange,
19A Canning St., Edinburgh EH3 8HE