Hearts + Balls is managed and administered solely by volunteers and does not employ any paid staff.
We run our own events and work to support partners fundraising efforts by  providing merchandise, raffle items, and promotional items such as wristbands and badges.
We will continue to build the profile of Hearts + Balls through regular communication and input into events and programmes at schools, clubs and other organisations.
Our funds are managed in accordance with good governance utilising the skills and services of the trustees and those of its Independent Examiners.
Our Charity will always have sufficient funds available to meet sudden requests for immediate assistance by an individual or family.
Make a Donation
To make a one-off donation, you can send a cheque payable to 'The Hearts Ballsand Balls Charitable Trust'.
Please send your cheque to:
Stuart Rae
Director
The Hearts & Balls Charitable Trust
10 Orchard Road South,
Edinburgh
EH4 3EN
If you would like to donate online, click the button below.
The directors would like to thank all who have kindly donated – both online and otherwise – your support is vital to our efforts and is hugely appreciated.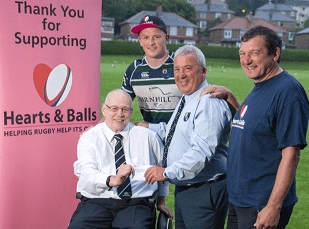 Fundraising
If you want to help in our fundraising efforts, why not join one of our fund-raising events, or even organise your own event?
Check out what's happening here!
Join a fund-raising event
Hearts + Balls organise regular fund-raising events and challenges – some of them energetic, others less so. Whether you prefer to walk 30-odd miles in the Scottish Borders or join a post-Six Nations party, you should find an event to your taste. See the News and Events sections for details of forthcoming events.
Organise an event
You can stage your own fundraising event. Please talk to us beforehand to ensure that the event is in line with Hearts + Balls standards and aims.
We can also send you a Hearts + Balls rugby shirt to raffle or auction. All we ask is that you raise a minimum of £1000. Simply email us details, and we will send you a shirt and details of how and where to send your donation.