Hearts + Balls MB has announced its squad for the 2020 sevens circuit.
And they'll look the part in brand new kit, courtesy of Rival Kit.
The team's ambassador Colin Gregor presented the players with their new kit at the campaign's launch event at Bier Hoose last week.
The former Scotland sevens captain said: "Every single one of the 30 players selected for this year's Hearts + Balls MB squad will make a huge impact, not only on the sevens circuit but on the lives of injured rugby players. By playing entertaining rugby across the country and beyond this spring, they'll help spread awareness of and fundraise for an incredible charity doing great things to help members of the rugby community who need support."

"The squad will develop both on and off the pitch, and will share incredibly memorable experiences. The players are all inspired by the people the charity supports and they, in turn, hope to provide opportunities for the beneficiaries to develop and benefit."

Businesses across Scotland have backed the team ahead of the campaign, including Argyle Consulting, Bier Hoose, Cream Floats, Ryden, HIT, Lift Gyms and SportsHall medical supplies.
Club manager Dylan Russell said: "We would like to thank all our sponsors and partners who are working alongside us this year. The players are incredibly motivated to do the charity proud and they'll do that by playing an incredibly exciting brand of rugby with great spirit throughout this season, and for many years to come. They have impressed in previous seasons and I feel this one is going to be even bigger so keep an eye out for our summer schedule launching and come along to support!"
Here's the Hearts + Balls MB 2020 squad:
Euan Bowen (1)
Stewart Hagart (2)
Jamez Ferguson (3)
Andrew Wilson (4)
Graeme Mitchell (5)
Mark Sinclair (6)
Dylan Russell (7)
Kyle Adams (8)
James Ferguson (9)
Craig Davidson (10)
Andy Smith (11)
Calum Hart (12)
Nathan Ross (13)
Willie Malcolm (14)
Euan Morrison (15)
David Devlin (16)
Will Lockhart (17)
Charlie Simmonds (18)
Jamie Mcgurk (19)
Matt Sanderson (20)
Dale Gordon (21)
Gus Hillhouse (22)
James King (23)
FInlay Broomfield (24)
Scott Aldritt (25)
Freddie Roddick (26)
Rhys Gilroy (27)
Danny Bain (28)
Thomas Klein (29)
Geoff Angco (30)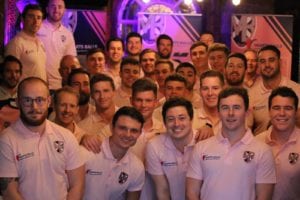 Pictured with Colin Gregor: Euan Bowen (Founder), Dylan Russell (Club Manager).
Thanks to Libby Blakeman (@theogblakemanphotos) for all photos.